This section is dedicted to the roots of freestyle within the state of Arkansas. I did not start in the sport of freestyle until mid - 1987, so until I can interview someone who was in the sport before that, this segment of roots will be based upon my experiences. All historical accounts in this section are based upon my personal memory (which seems to be slipping). So all accounts will be considered valid until someone can tell me otherwise.

If you have any further information to add concerning any events/contest mentioned in this section; or if you actually have photos, PLEASE e-mail me. If you have information concerning the history of the sport of BMX Freestyle in any areas outside of central Arkansas PLEASE e-mail, and I will add it to the ROOTS section. If you have any videos of you or your friends riding (no matter what level of riding, or no matter how old the video - the older the better) PLEASE e-mail me. Listen, if I've kept old photos all these years surely some other riders must have some other photos!


(This information comes from Paul Willis, who lived in Arkansas till 1984. He then moved to Austin, TX and became one of the original members of the "9th Street Fools") There was no "scene" in the early '80s. I used to have to go over to LR to the Chainwheel to get any parts till that white haired dude (I think he means James Jez the original owner of J & P Bike Shop) moved to Sherwood and started the racing scene and the shop on Keihl, can't remember that guy's name, but he was a cool feller, his kids raced BMX and one of 'em bought my P.K. when I headed down here. I used to get bitched at by the parents at that old track for doing tricks and crazy jumps offa the backs of berms.

In the '80s I just rode around and jumped anything I could, even the guys I knew from the track didn't ride around on the street much. Before that track got built I rode out at the old Jaycee Motocross track with the motorcycles. The only guys I even knew that jumped stuff were Paige, Rob Dawson(now my step brother) and a few other dudes whose names elude me. Seems like I remember a show by the Mountain Dew team in the parking lot of the Kroger on JFK but can't remember the year. Think it was R.L. Osbourne and maybe Eddie Fiola. I remember some of the racer dudes were there and said,"Hey look, there's some dudes doin' that stuff Paul's always tryin' to do." . Freestyle wasn't taken that seriously back then.

My most treasured memories were of that old crete skatepark in Little Rock and bombing that funky snake run.



(This information comes from Tony Carruth) CW Freestyle team performed a show at the "old" Bicycles of Sherwood bike shop (on the west side of freeway). John "Dizz" Hicks and Ceppie Maes were among the pros there; while Harold "MaGoo" McGruther was the announcer. I am told that the actual riding area wasn't that great, and the show consisted of a quater-pipe and "kick-turn" ramp (a wedge ramp to you "new schoolers"). The show was very psyched though, and seemed more like a heavy metal concert with bikes.

This one thing I know happened in 1986, because my friend went to it. The GT/Dyno team did a show at Bicycles of Sherwood in the summer of 1986. If I remember his story correctly, Martin Aparijo and Eddie Fiola were among the pros on tour.

1986 was also the year Aerial Dynamic Freestyle team was formed by Tony "Chili Dog" Carruth (the original Arkansas Freestyler). Not exactly sure if this took place in 1986, but I know by the time I started riding Paige Hearn built a half-pipe in Levy and began selling "naked" skateboard decks. They were the same shape & concave of the pro boards, but at a fraction of the cost.



The summer of 1987 my dad bought me a used GT Performer. It came with an old Dyno drainpipe seatpost, SR Sakae stem, front and back brakes with mountain bike looking brake levers (no detangler) and a cheap set of rims. I quickly threw away the rims and bought a set of GT nylon mag wheels from my friend Jon Lee, who got me into freestyle. At that time, Jon rode a "Blue Max", which I think was actually a Mongoose with different decals. By the end of the year I had an Odyssey Gyro and full set of pegs. Freestyle at this point was front & back hops, tailwhips, and pedal standers.

I believe it was the summer of 1988, I was visiting my mother in Jacksonville. One day I was riding my bike past the Rec. Center and saw a guy doing a backwards barstander. This guy was Ernie Bryant. I was totally blown away by Ernie's riding. I had never seen hang - 5's, whiplashes, or rope - a - roni's before. I believe that it was the summer of 1988 that I saw my first freestyle show - Aerial Dynamics. The team at this time consisted of Tony Carruth, Mason Collier, and Blaine Smith. If I am not mistaken Pat Jones was also at that show, but not apart of the team. They performed a show in Des Arc during their "Steamboat Days" festival.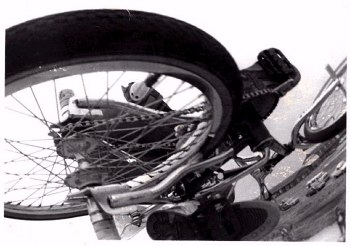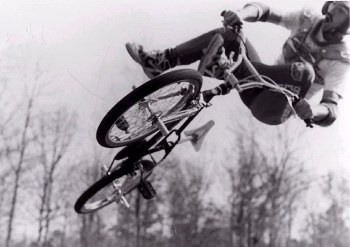 Tony Carruth catching air on a Haro Sport at an old Aerial Dyanmics show photo by Stew Isbell
In the winter of 1988 there was a contest at the Convention Center inside the Excelsior Hotel. It was a one day skate/BMX freestyle contest. This contest was known as the "Truth Search Contest". Contest area consisted of: "Stone Henge" ramp, two quarter pipes, and a wedge to wall ride. The skate competition went first. During the skate competion, the flatlanders formed a "jam circle" to practice. For a bunch of 1988 ametuers there was some pretty technical flatland being pulled. Rolling tricks were just beginning to be the biggest thing in flatland, so many people were pulling steamrollers, frontyards, & backyards in tight circles. This did not keep a few riders from pulling some older infinity roll to pedal picker or quick spins. I did not even get to stay long enough to watch any of the freestyle competition. I did find out, however, from a local 'zine (Committed 'Zine edited & published by Greg Mobley) that a Memphis rider named John Tines won the ramp/street competition. The contest ended in a little controversy concerning entrance fees and ABA memberships.
The summer of 1989 a bunch of skater friends of mine and myself built some small ramps in a vacant lot beside my friends house. This was pretty much the beginning of street riding for me. In the summer of 1989 there was another "Truth Search Contest" held in the parking lot of the Days Inn Motel on West 65th Street in Little Rock. The ramp/street course consisted of: "Stone Henge" ramp with launch ramp at side for a gap; quarterpipes at either end of parking lot, wedge to wall ride, and a grind box with a small wedge to wedge ramp with handrail. Skate competition was held on Saturday. Saturday night, from what I was told one freestyler tried 360ing from the launch ramp to the box of the Stone Henge without a helmet on. His bike landed wrong and he fell head first between the ramps, knocking himself unconcious. Ambulance and police arrived shortly after that.
Freestyle competition was held on Sunday, and I was asked to be one of the judges. There were four judges, two of the other judges were Blaine Smith and Tony Carruth. Prior to this contest Kevin Jones had just pulled the "Death Truck" at the AFA contest, so every flatlander was attempting this trick. Some of the local riders I remember from this contest were Jason Childres, John Tines, Billy Jacobs, & Chad Merriman (all from Memphis, TN); Stewart Isbell (Alexander, AR); Pat Jones, Mason Collier, & Ryan Corrigan (NLR, AR); Greg Mobley & John Oller (Fort Smith, AR); Ernie Bryant (Jacksonville, AR); and Scott Young. Chad Merriman was an awesome flatlander from the Memphis area, and if memory serves me correct was once sponsored by Skyway. I believe it was at this time that Chad even got his picture in "Freestylin' Magazine" from the AFA competition; they listed him as "bachelor number 4". I forget who won the flatland competition, if Chad entered, then it was probably Chad. Ramp/street comp was won by Billy Jacobs, also from Memphis. Billy pulled some high fakie variations, a 540, and an attempt at a tailwhip air. Tony Carruth judged the highest air comp. Awards went to Scott Young. At this comp I met Greg Mobley, editor/publisher of Committed 'Zine, which in my opinion was one of the best local 'zines at that time. Again, there was more controversy surrounding entrance fees and ABA membership; the same guy was responsible for putting on both "Truth Searches".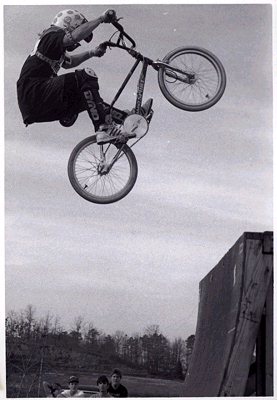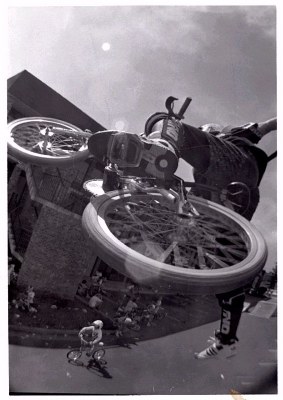 Billy Jacobs at Days Inn Contest (little Ryan Corrigan is in the white helmet) photo by Stew Isbell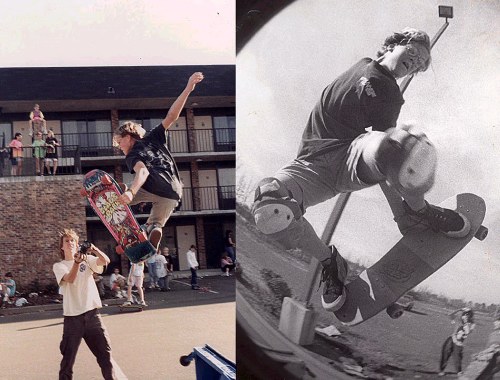 photo of Stewart Isbell taking a pic of a skater at the Days Inn comp & the actual photo he took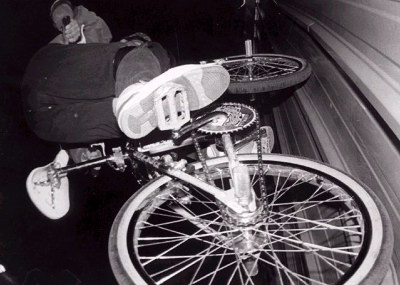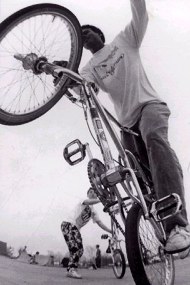 Mason Collier fakie wall ride @ Cherokee ditch, Pine Bluff Ernie Bryant death truck w/ Blaine Smith in the back photos by Stewart Isbell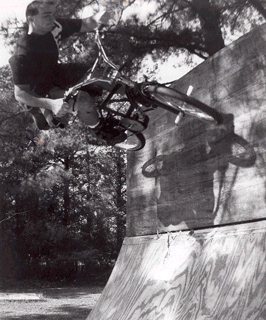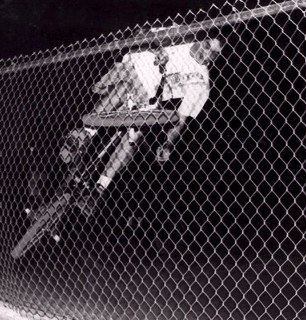 Greg Mobley wall ride @ ramp in Pine Bluff Pat Jones fence ride by Kanis Park
photos by Stewart Isbell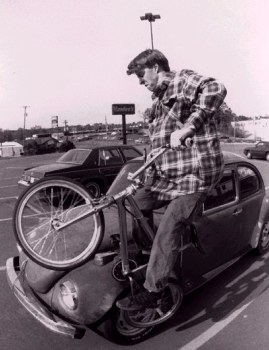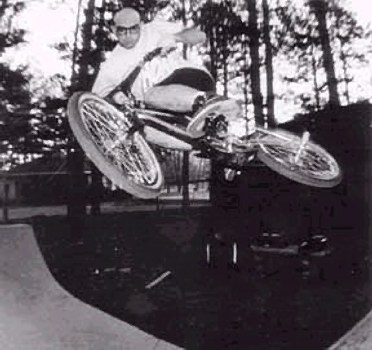 Stewart Isbell foot plant on friends car Greg Mobley air on ramp in Arkadelphia circa 1991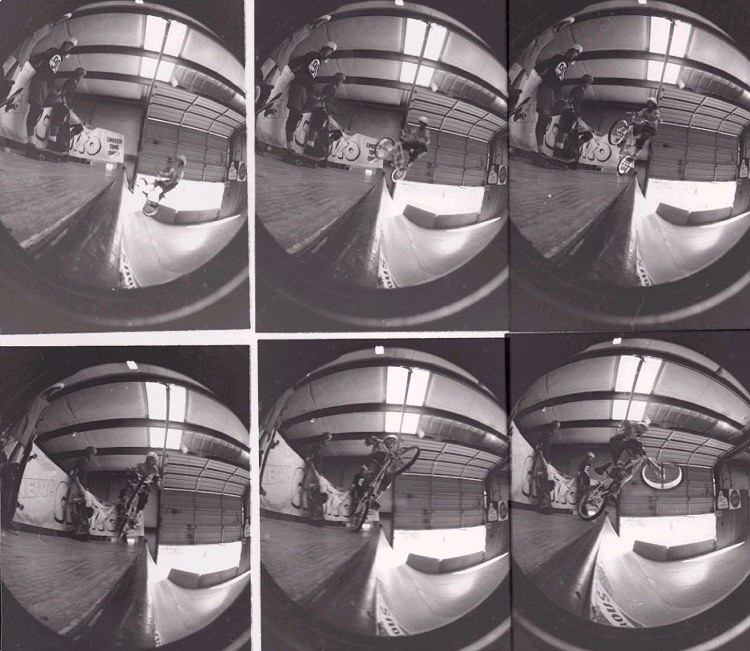 Jason Childress manual at Memphis Park photo sequence by Stewart Isbell
Spring of 1990 D.R.I. performer at Mandrake's (now known as Vino's). D.R.I at that time in my life was my favorite band. They toured with Nasty Savage and Sick of It All.
Jason Weatherly disaster @ Justin's ramp, Searcy cir 1990 D.R.I. sticker on the downtube of my Skyway TA
The summer of 1990 the GT/Dyno team performed a show at the Bike Haus in Hot Springs. Instead of unloading their ramp, they simply used the bike shops skate park for the show. The park consisted of a half pipe, a very wide quarter pipe/wall ride thing, a 4 ft mini-half pipe, and a spine ramp. Team riders at the show were Dave Voelker, Brett & Trevor Hernandez, and Ruben Castillo.
Dave carving on the half pipe at the Bike Haus
Rueben Castillo abubaca on the spine Dave Voelker side glide
One cool thing I remember at this show was that I found out the pros are not perfect. At the show every rider was attacking the spine ramp, and for some reason the GT/Dyno riders just couldn't pull a backside boneless (aka can-can footplant) on the spine.
Brett Hernandez backside boneless attempt. Greg Mobley & Pat Jones in foreground
In sort of a taunting fashion, ever amatuer there began busting out backside bonlesses. It was sort of an Amatuer vs. Pros session. In response to the amatuers, Dave Voelker threw down a nosepick double-tailwhip on the spine. Dave was quickly delt a "check-mate" by Greg Mobley (riding a GT Aggressor, with built-on bashguard), who busted a 360 rock-n-roll (180 to sprocket guard to 180 off the backside of ramp). Also, at this show I witnessed John Oller (flatlander from Fort Smith) pull a hitch-hiker. John was probably the best flatlander I ever saw from the state of Arkansas.
John Oller rolling a hitch-hiker at the Dyno Show. Greg Mobley in the black & Jason Childres in the white on the "day-glow" orange GT.
It was also around this year that Homeboy Magazine, the best ever BMX 'zine, was going under and Club Home Boy membership was ending (I never got to join; but considered myself a member by heart).
Aerial Dynamics continued to have summer shows. Here are some photos from one in Burns Park.
Blaine Smith, Ryan Corrigan, & Tony Carruth
Blaine Smith cherry picker Mason Collier tail tap
Ryan Corrigan backwards peg roll Tony Carruth one footed backwards nose-wheelie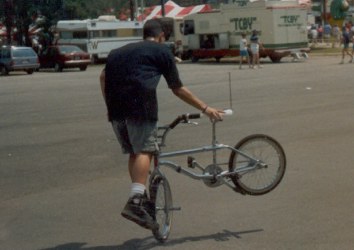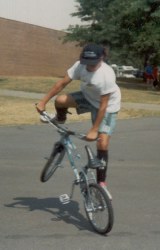 Kris Spann steam roller & unknown Levy rider happy meal (peg to peg decade) on a Haro Master circa 1991
@ Aerial Dynamics show in Burns Park
There were several local competitions held at this time outside of the state. I use to have a video of one held in Oklahoma, in which Davin "Psycho" Hallford competed. "Psycho" totally carved a wall ride across the windows of the car, and was almost landing frame-standing foot-plants on the wall ride. Jason Childres, from Memphis, during the practice went for a "gay rock-n-roll" (rock-n-roll where only the front wheel goes up on platform; as opposed to going all the way to sprocket) from a ramp to the hood of the car; and his forks broke off at the steering tube! At this same contest Greg Mobley pulled a bunny hop to fakie rock-n-roll on the roof of a car! Jason Childress and John Tines, at this time, put out their "Memphis Satanic Video". There was nothing "Satanic" about the video, just a lot of good riding. Memorably scene from the video was a rider going for a tailwhip drop off a loading dock. His foot slipped off the top tube of his bike, smacking his scrotum on his seat. The impact was so bad the guys in the background watching him, fell to the ground also.
The summer of 1991 was probably the best summer of my life for riding. By this time I was totally into street & mini-ramps. My bike at that time was a Redline racing frame with GT freestyle forks; Perigrine "Q" bars & GT block stem, and chrome Araya 48's (Trend Bike Source specials). I had a Kore Thrashguard (bolt on bashguard) and Pulse pegs (these were some of the first "threadless pegs").
Jason Weatherly fakie footplant (notice the bashguard) & nosepick @ Beebe ditch cir 1991
Jason Weatherly wall ride @ Beebe ditch cir. 1991
My skater friend Wil Smith (no kidding) had built a mini-half pipe, and we had set up some ramps behind the old Knight's building loading dock. The summer of 1991, I met Stewart Isbell, Pat Jones, and a flatlander named Jason (from Levy). My friend Jon Lee and I hooked up with Pat Jones and his friend Ryan Corrigan. I would meet up with Ryan Corrigan no less than three other times at Riverfront Park that summer. There was a skate contest at Kanis Park that summer, and there I met up with Stewart Isbell again. I was the only freestyler there (by this time Stew had quit riding bikes and started roller skating; not "blades" but "skates"). At the contest I was riding Stew around the park, while he stood on the bars (like old Brian Blyther & Craig Grasso stuff). It was also that summer that I met up with some riders from the Bryant/Benton area: Kris Spann and Matt Bullard.
In 1992, for one reason or another I lost interest in the sport. At that time in my life, I was attending Bible college and was engaged to be married, so freestyle was no longer any interest to me. I took all the parts off my bike and put them on a GT zoot scoot mini-scooter. I gave my frame/fork and rims to a kid in church. I later sold the GT zoot scoot to Stewart Isbell. One thing I do know about the sport of freestyle at this time, is that Ryan Corrigan got his picture in the feature section of the Arkansas Democrate-Gazette doing a handrail.
Don't know beans about what happened in the state with BMX freestyle. Somethings I do know happened sometime within this time frame is that Ryan Corrigan went pro and got sponsored by Fat Bald Men (FBM) Bikes and the cities of North Little Rock, Fayettville, Searcy, and Memphis all built skateparks. If anyone has some information to fill the gaps I would love to hear it, especially concerning Ryan Corrigan turning pro.
I found out from Tony Carruth that it was about this time that Ryan Corrigan fulfilled his lifelong dream of becoming a "full-time bike bum". He went Pro and began to tour with FBM (Fat Bald Men) Bikes, to whom he is still sponsored to this day. Word is, he now lives in Austin, TX and has worked at Woodward, PA; and has competed in the European scenes.
Actually in the spring/summer of 2001 I found out a guy I work with, Eddie Williams, was into freestyle. We began to talk about it more and more, and the fire began to spark. By the end of 2001 I had plans to buy a bike at the beginning of the next year. January of 2002 I bought a Haro 540 Air. Out of shape and out of practice, I quickly realize I now suck! I have built a grind box and have just finished building a box jump. I now schedule an hour a day to ride. January of 2002, I met a rider named Jason Vaughn at the Searcy skate park. Aerial Dynamics Freestyle team is still doing shows. Shows should start sometime in April.
April of 2002, Kullison Skate Park, hosted a Bike Park contest. See contest section for offical results.
June of 2002, The IMAX Theatre hosted Xtreme Days; which consisted of both skateboard street contest and a bmx race. There was some sort of drawing to win an all expense paid trip to the 2002 X Games in Philly.
July of 2002, Tony's Radical Sports hosted a Park & Dirt contest. The contest was put together by Arkansas Local Flatlander, Danny D-Boy Harrison. I got to help judge the competition. See contest section for official results.
Jud Ferguson opened an indoor skatepark complete with 5ft half-pipe, box jump, grinds, sub-box, street spine, & mini quarter-pipes.