(note special thanks to Ryan Stotts for posting scans from old 'zines on pedalbmx.com and all the guys on vintagebmx for their scans; also you can click on some of the images in this article to see a bigger image of the ad)

Kids have always ridden their bmx bikes on the streets; whether it be bunny hopping off sidewalks or doing curb endos. However, in the mid to late 1980s, due to the popularity of street skating, bmx riders such as Ron Wilkerson, Dave Voelker, Craig Grasso, Eddie Roman, Pete Augustine, etc helped to birth a new discipline of bmx freestyle - street riding. Taking ideas from our cousins, the street skaters, these bmx riders began to look at the various parts of their bikes as "instruments of destruction." Pegs were no longer just for standing on, pedals & sprockets were no longer just for turning the wheel. These were now being used like a skater's trucks & deck, for grinding and sliding.

One of the very first street grinding tricks was the sprocket grind. I cannot tell you exactly who invented the sprocket grind, but I can tell you that one of the first photo sequences I ever saw of a sprocket grind was of Ron Wilkerson sprocket grinding a picnic table on a Haro Sport. This was 1988 or so.

By the late 1980s "street riding" had gained a lot of popularity and was getting regular magazine coverage. In 1988 Ron Wilkerson held the first 2hip "Meet the Street" contest. This would pretty much set the standard for all street/park contests to come. Street riding helped bmx freestyle to break away from its former bmx racing type image of full leather uniforms and such. Riders now showed up at contests wearing t-shirts, shorts, & Hammer bodygear.

At this same time, some of the biggest companies in bmx were dropping their teams and going out of business. This lead some riders to take charge of the industry and start their own "rider-owned" companies. The first of which would be S&M Bikes, founded in 1987 by Greg Scott & Chris "Mad Dog" Moeller. A year later, another rider, Vic Murphy, would venture out and start his own bike company, sort of the "anti-company", "Dirt Bros Industries". Skyway Recreations had stopped production of their bmx bikes; and Vic Murphy bought out the remaining Skyway T/A frame & forks from their warehouse. Vic slapped some "Dirt Bros. Inustries" stickers on the frames, and offered the frame & fork with the first ever "bashguard" device - the Havoc Sprocket Pocket. The Havok Sprocket Pocket was basically a hard nylon disk that bolted to a five-bolt spider/chain ring combo.


Original (prototype) Dirt Bros Havok Sprocket Pocket (bike with Havok Sprocket Pocket bolted to sprocket)


The Havok Sprocket Pocket offered slight chain protection during stalls and grinds. The nylon guard also made grinding/sliding on rough concrete ledges a little smoother. Once one side of the guard had ground down to the chain, you simply unbolted the guard and turned it to a new side. "Havok" would later be bought out by Odyssey, who would continue to produce Odyssey Sprocket Pockets.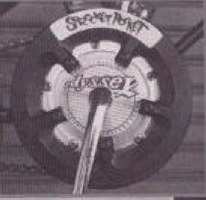 Odyssey Sprocket Pocket


In 1989, the two biggest names in freestyle, GT Bikes & Haro Bikes unleashed onto the public their new street "bashguard" frames. These new "bashguard" frames borrowed a concept from "trial bikes." A "trial bike" was a smaller mountain bike with one spead gearing. Underneath the bottom bracket of a "trial bike" was some sort of heavy duty, bolt-on, U-shaped rod to protect the sprocket against casing on rocks, logs, etc.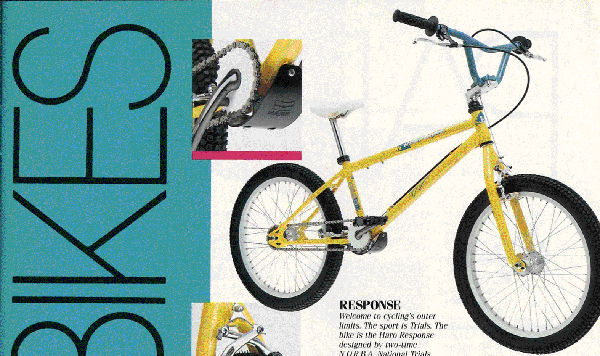 example of 1988 Haro trial bike w/ small skid plate under sprocket


These new freestyle "bashguards" had two small tubes in a "U" shape welded underneath the bottom bracket from the downtube to the chain stays. These "bashguards" came with a replaceable aluminum or neoprene/nylon "skid plate."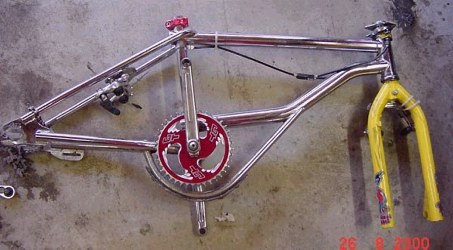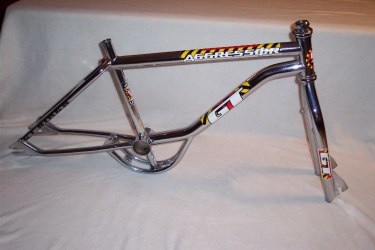 1989 - 1990 GT Aggressor (downtube over b/b) 1991 GT Aggressor (downtube into the b/b)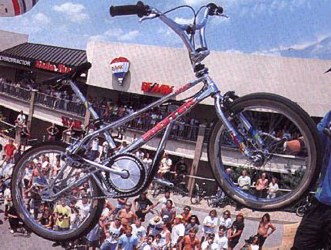 1989 - 1990 Haro Air Master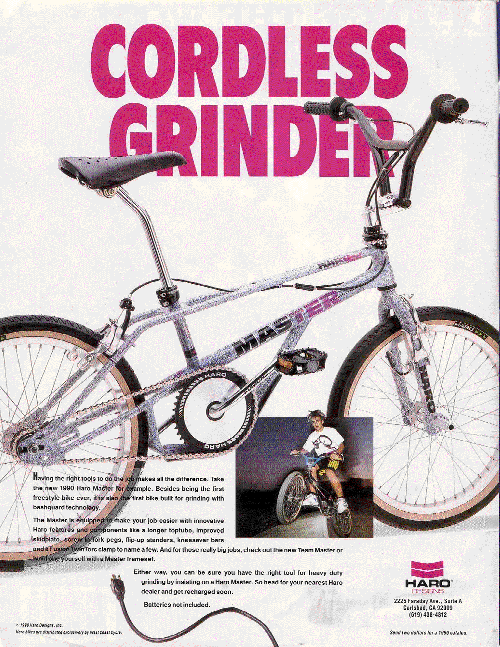 1990 Haro Air Master ad w/ flex spray paint


Street riding had become so popular that Haro offered both its flatland frame, the Master; and ramp frame, the Sport with the new "bashguard." These new "bashguard" bikes offered to the public a bike that seemed to be able to handle the abuse of street riding. The "bashguard" not only offered protection for the sprocket during grinds and stalls; it also offered a more balanced & stable device to grind/stall on. Riders now had the option to sprocket grind or "bench slide" on either the right (sprocket side) or left side of their bikes. Also, the "skid plate" on the "bashguard" was replaceable, so once you wore the "skid plate" out; you simply bought a replacement. Most "street pegs" at this time also came with replaceable nylon covers (like "park" pegs of today). In 1990, GT/Dyno expanded there line to include the Dyno Slammer. The Dyno Slammer was basically a Dyno Pro Compe frame with a bashguard welded to the bottom.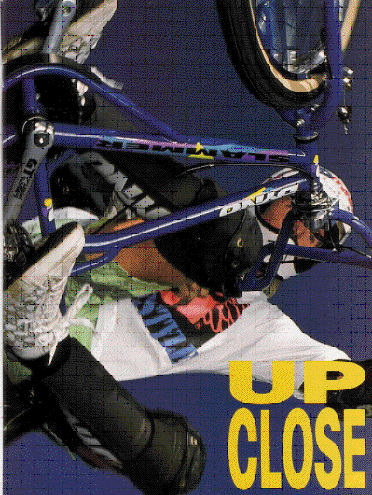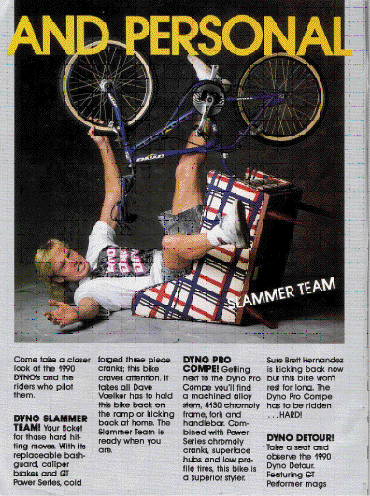 1990 Dyno Slammer ad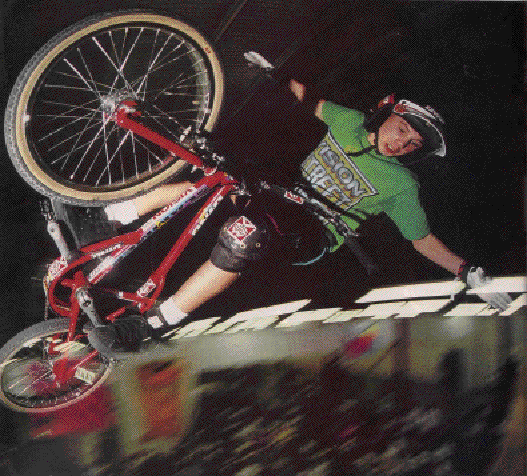 young Dave Mirra (Dyno co-sponsored) on a Dyno Slammer 1990 KOV contest


The first "bashguard" bikes were not without their own problems though. Most were first offered with aluminum skid plates, which were not too great for grinding concrete. Also the skid plates did not really offer a lot of protection for the chain when sprocket grinding on the right side. Haro offered their "bashguard" bikes with peg mounts on the forks and rear dropouts. Continuous peg stall/grinds caused the wafer thin rear dropouts to bend. In 1991, Haro would remedy this by not offering rear peg mounts on the dropouts. However, the dropouts were still produced too thin for street riding standards.

In 1990, Bob Morales started a new bmx parts company called KORE. KORE was the first company to offer to the bmx world the "bolt-on" bashguard, called the KORE "Thrashguard". Instead of going out and buying a completely new frame, riders now had the option to simply buy this bolt-on "thrashguard" for their existing bike.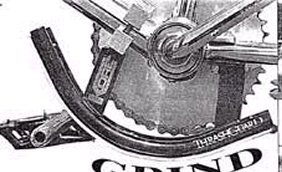 The KORE Thrashguard had aluminum clamps that bolted around the down tube and a clamp that bolted onto the chain stays, much like a kick-stand. This idea of a "bolt-on" bashguard would later be copied by GT Bikes and would help add fuel to their on-going "bolt-on is better" war against Haro.

Also in 1990, two new "rider owned" companies would emerge. Veteran flatlander, R.L. Osbourne started his own company R.L. Inc and introduced his own "bashguard" bike called Bully Bikes. Bully Bikes would offer a bike with a bigger downtube, and also a "skid plate" that was thicker under the chain stay to offer more chain protection. The "skid plate" could be ordered by itself, and was quickly seen on all brands of "bashguard bikes".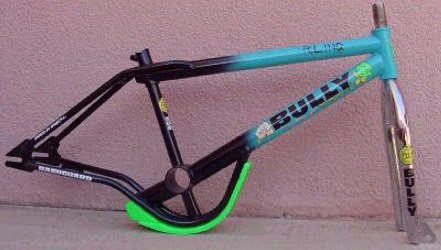 1990 Bully Bike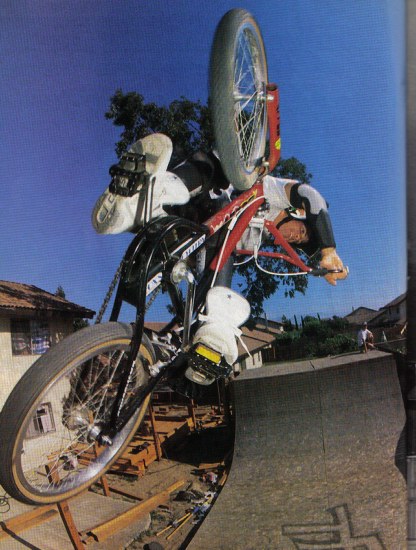 Mike Dominguez 1990 on a Bully w/ rear 990 mounts


The other rider owned company birthed in 1990, was Wilkerson Air Lines or WAL Bikes, founded by verteran ramp & street rider Ron Wilkerson. Wilkerson Air Lines introduced the first frame to have a removable bashguard, the WAL Riot. WAL bikes also was the first bike company to offer bikes with thicker drop outs. They also produced, what I consider, one of the best fork concepts ever. The fork blades extended past the the drop outs to give the front hub protection during peg grinds. Instead of clamping around the down tube like the KORE Thrashguard, the bashguard on the WAL Riot used an allen bolt that threaded into the downtube.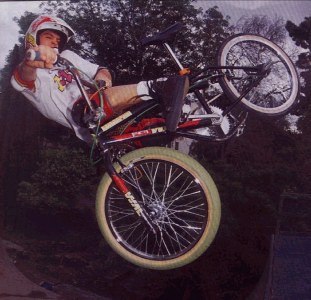 Ron Wilkerson on a WAL Riot w/ WAL forks


In 1991, Mongoose bikes picked up the biggest name in freestyle at that time - Dennis "DMC" McCoy. They also, at this time, produced their own "bashguard" bike, the Mongoose Hooligan. The Mongoose Hooligan also offered a removable bashguard, like the WAL Riot, but with a "wishbone" style bashguard.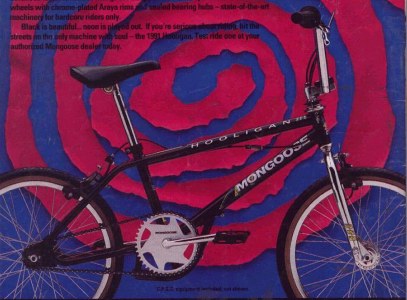 With new companies offering their own version on the "bashguard" bike, by 1992, the two giants of bmx, GT and Haro, revamped their street bikes. The GT/Dyno bikes now came with removable "bolt-on" bashguards. Haro bikes no longer welded the downtube into the seat tube, but now intergrated the downtube into the bashguard. They also no longer offered peg mounts on the rear dropouts.


1992 GT Aggressor & Dyno Slammer with bolt-on bashguards




1992 Haro Air Master & Sport (prototype shown w/ peg mounts but not offered in production)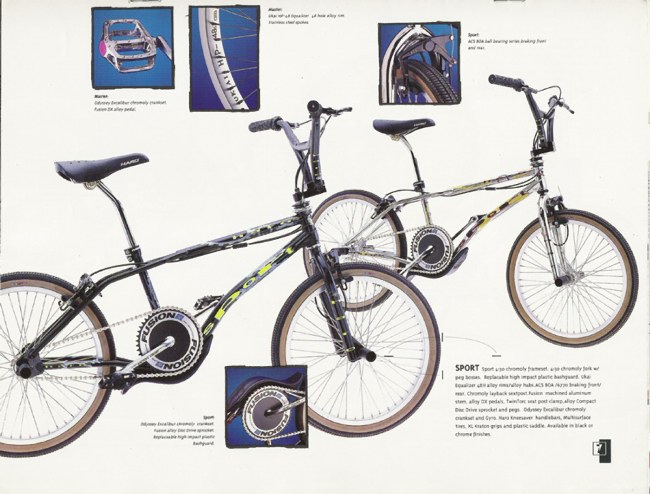 Different 1992 Haro Sport ad no rear peg mounts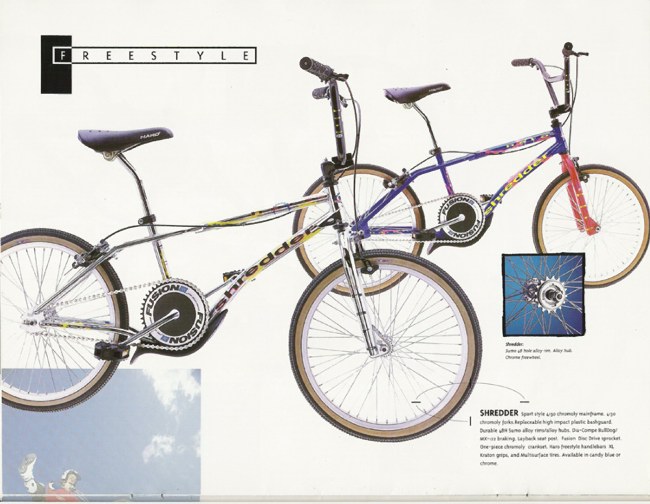 1992 Haro Shredder, same frame as Sport with different components


Bully bikes also jumped on the removable bashguard band wagon, and offered a new frame the Bully 1 with their own version of a removable bashguard in 1992.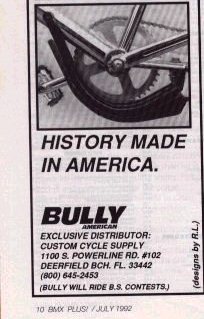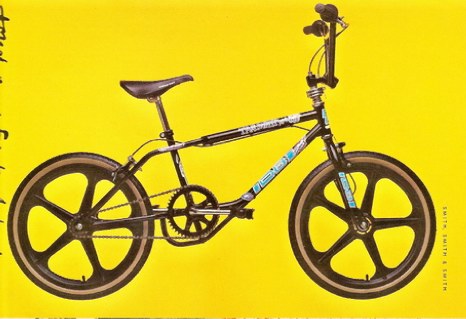 Bully Bikes removable bashguard and Diamond Back's street bike.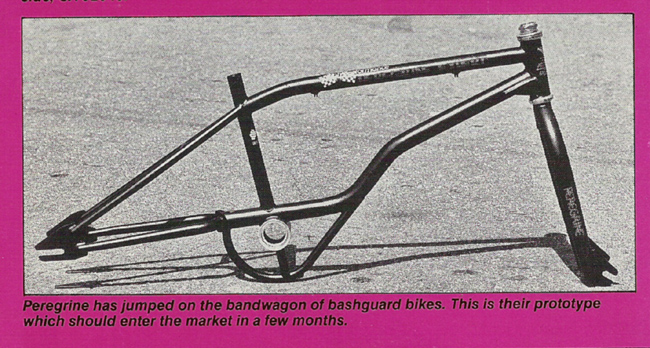 Peregrine Street Frame that never made it into production.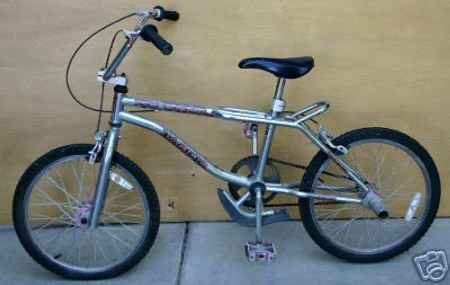 Pacific Dirt Grinder someone was selling on ebay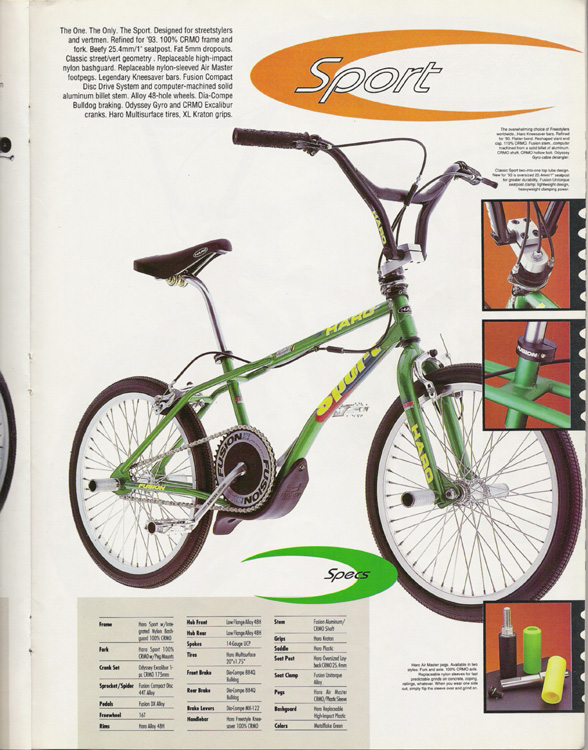 1993 Haro Sport ad


Haro still offerred their bashguard Sport in 1993. This time around they upgraded the frames a bit with 1" seat tubes and 5mm thick rear dropouts. They still offerred peg mounts on the forks with special pegs with nylon/plastic covers.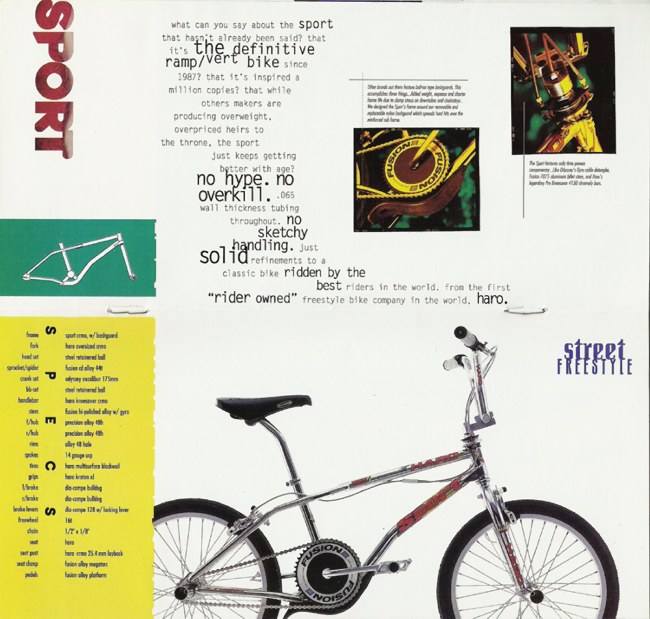 1994 Haro Sport ad notice no peg mounts on the forks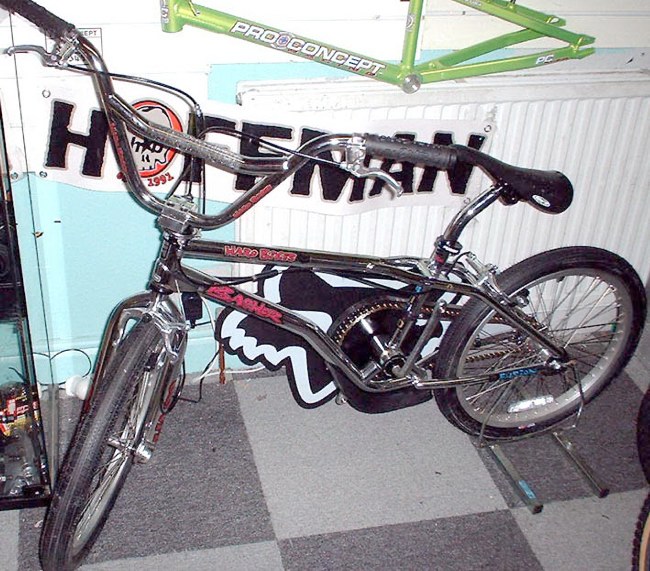 1995 Haro Basher framestand made different than original Sport


The bashguard frames, whether removable or not, continued to be produced until around 1996-97. I've seen some old Props videos from 1995 in which Mike "Rooftop" Escamilla is riding a Hoffman bike with a removable bashguard (probably a KORE), and also Dave Mirra riding a Haro Basher with a bashguard. Todd Lyons from time to time was known to throw a bolt-on bashguard on his frame.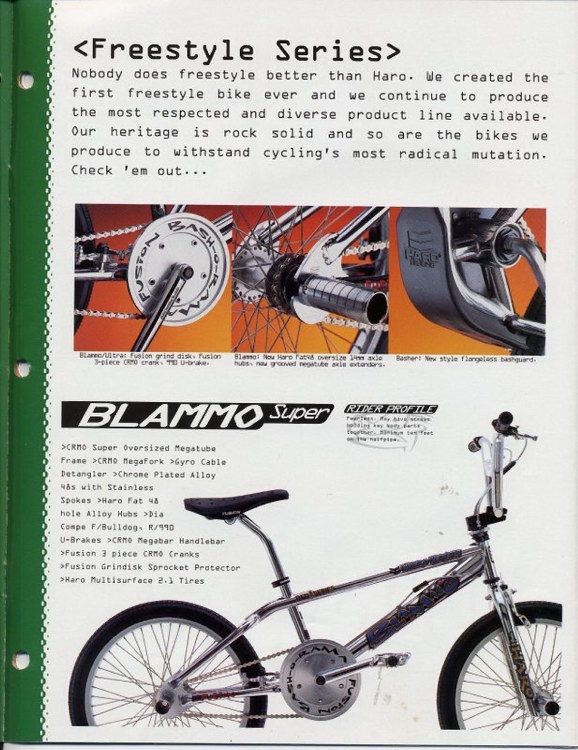 1996 Haro Blammo ad stock with "bash-o-rama" grind disk; Haro Basher still available in '96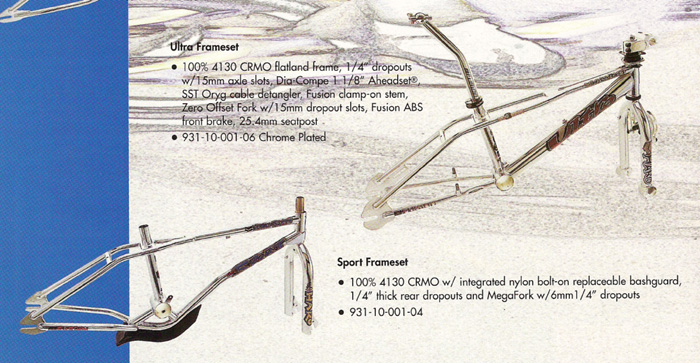 1997 ad for Haro, "Basher" frame back to "Sport" name, Haro "Master" now with larger downtube called the "Ultra"


In 1995 Haro/Fusion introduced the first ever sprocket bashguard, i.e. a sprocket with a bolt-on bashguard - the Haro Grind Disk.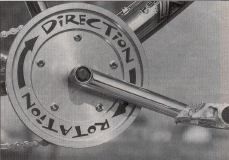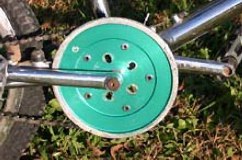 Before this time, all disk bashguards bolted to a 10 bolt spider/chain ring combo. The Haro Grind Disk was an actual sprocket with its own bash guard bolted to it. The actual sprocket could not be used without the grind disk/guard. This lead to the production of other sprocket type bash guards that we have today. From 1996 to today, sprockets have been cnc machined from thick aluminum, making them stronger & lighter than their predecessors. Also, chain companies now offer 1/8" or 3/16" chains with heavy duty side plates. The bashguard sprockets of today are either a sprocket with a bolt-on bash type guard, or are one solid piece with a built in bashguard.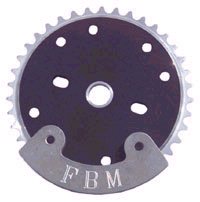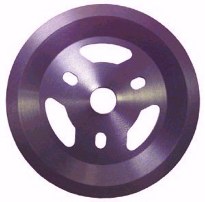 example of bolt-on sprocket bashguard (FBM) and 1pcs solid sprocket bashguard (Macneil)


The new bashguard sprockets are all actually based on the original sprocket guard - the Havok Sprocket Pocket. Companies like DK, Arsenal & Hoffman actually offer sprockets with nylon/polycarbonate bashguards. So in a way the "bashguard technology" has actually went full circle. The bashguard bike survived from 1989 to 1995. The bolt-on bashguard (like the KORE Thrashguard) has reappeared over the years thanks in part to Todd Lyons. Will the concept of bolt-on bashguards or bashguard frames ever come back? Probably not, but who knows anything is possible. I do happen to know a local bike shop that still has an old GT bolt-on bashguard. So who knows pretty soon, you might see a bashguard in our local skate parks.




UPDATE!!!

Evidently I was wrong in my statement that bashguard would "probably not" make a comeback... BMX street riding has now gone full circle back to the BASHGUARD!! Check out this pic of a bashguard that Rueben is riding from Fly Bikes!!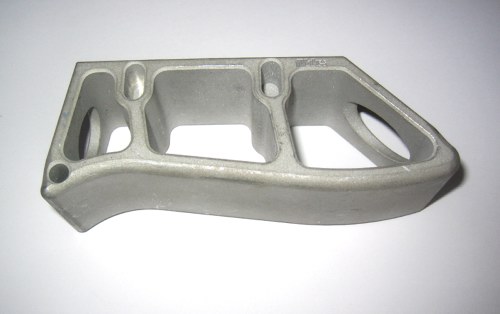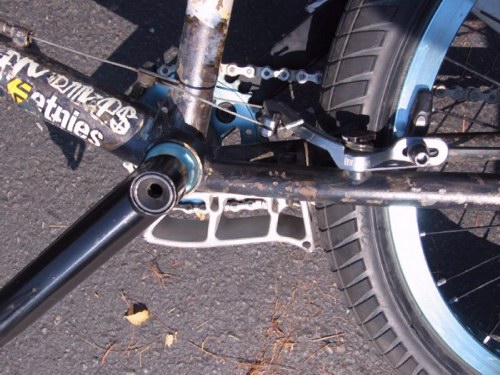 Rumor has it that Fly WILL produce these bashguards and T-1 is re-designing a Bar Code frame that will accommodate the bashguard.